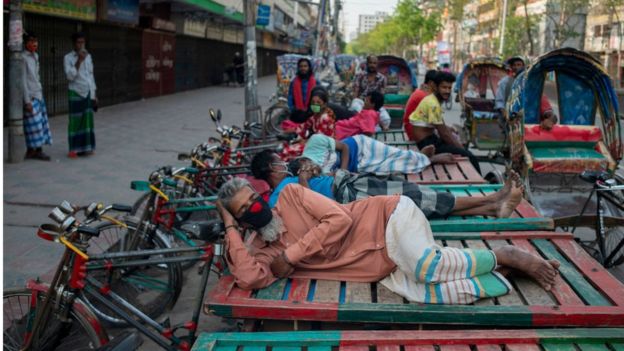 Various organizations are warning that the global economy is now facing a major catastrophe due to the widespread spread of coronavirus.
This effect will be most severe in populous countries like Bangladesh.
The World Bank said in a report last week that Bangladesh's economic growth could fall to 6% from 2% or 3% in the event of a coronavirus.
Afroza Khan runs a catering service in Dhaka. The company sells lunch every day at various offices in the city.
Khan's Kitchen also caters to demand at various festivals and family events.
Everything has been shut down for the last one month due to the 'lockdown' announced by the government across the country to stop the spread of coronavirus.
Afroza Khan, the head of the company, told BBC Bangla that she was in dire straits.
"All my money is in the market. The money is stuck with the people I gave food to. I can't think of how to cope from here," said Afroza Khan.
The most affected are the industrial and service sectors
Every sector of Bangladesh's economy has suffered severe losses in the last one month. Bangladesh's economy is broadly divided into agriculture, services and industry.
According to the Bangladesh Bureau of Statistics, the contribution of the service sector to the country's economy is now about 50 percent. Besides, the contribution of industry is 35 percent and the contribution of agriculture is now about 14 percent.